What is ClubGG?
ClubGG is a state-of-the-art desktop and mobile poker client where you can play online poker with your friends for free. it does not matter where your friends live, you can fire up ClubGG and take them on in free-to-play cash games and tournaments. Currently, you can play No-Limit Hold'em, Pot-Limit Omaha, and Five-Card Omaha, the latter otherwise known as Big-O. GGPoker plans to add more poker variants in the coming weeks and months, including Open-Face Chinese Poker, and Short Deck (6+) Hold'em.

Players can create their own private poker club or join Club PokerNews to win free play money playing poker. Cash games and tournaments are fully customizable and are perfect for battling it out with friends if you are struggling to get everyone together for a home game

Club PokerNews (ID: 811180) is free to join, in fact, we give you 100,000 chips for free. Joining our club gives you the opportunity to play in action-packed free-to-play cash games and tournaments against PokerNews staff and your fellow PokerNews readers. Staff members are clearly marked by a "PN" in their aliases.
ClubGG Platinum Subscription - WSOP Main Event Seat Giveaway
ClubGG comes with an in-built subscription model that you are under no obligation to subscribe to. Becoming a Platinum Member costs an affordable $49.99 per month, and it opens a lot of doors for those of you who want to win massive prizes but cannot access the GGPoker online poker site. There is an epic promotion kicking off the official launch of ClubGG; there are ten seats, each worth $10,000, to the 2021 WSOP Main Event in Las Vegas guaranteed to be won by ClubGG Platinum Members! Three seats will be won on August 8, another three on August 15, and four more WSOP Main Event seats waiting to be won by you on August 22. This amazing offer is only open to those holding a Platinum Membership, and they get unlimited attempts at winning a 2021 WSOP Main Event seat for their $49.99 monthly subscription.
WSOP Main Event Giveaway Stages
Want to win your seat into the 2021 WSOP Main Event? Here are the three stages to win seats to the Main Event using the Platinum subscription on ClubGG.
Stage 1
From August 2nd, Stage 1s will run every hour at the 30-minute mark. The top 20% of finishers win tickets to Stage 2
Stage 2
This Sit n Go format will guarantee at least one ticket depending on what size SNG you play:
| SNG | Tickets |
| --- | --- |
| 9-Max | 1 Ticket to Stage 3 |
| 18-Max | 2 Tickets |
| 27-Max | 3 Tickets |
| 36-Max | 4 Tickets |
| 45-Max | 5 Tickets |
| 90-Max | 10 Tickets |
| 180-Max | 20 Tickets |
1 in 9 players will win tickets to the Final Stage.
---
Read More: 10 Tips for Sit & Go Success- SNG Pros and Cons
---
Stage 3
The final stage (Stage 3) will run at 19:00 GMT/15:00 ET/12:00 PT every Sunday, guaranteeing seats to the WSOP Main Event.
Aug 8 - 3 seats to WSOP Main Event
Aug 18 - 3 seats to WSOP Main Event
Aug 22 - 4 seats to WSOP Main Event
Monthly Subscription - Membership
The $49.99 Platinum Membership subscription makes it possible for you to try and win more than $100,000 worth of live event prizes each and every month!ClubGG is for you if you have ever dreamed of playing in the biggest live poker events where you will rub shoulders with the game elite professionals. ClubGG is the place to be if you want to qualify for major live events super cheaply. You will never pay more than $49.99 per month, yet can win $10,000 WSOP Main Event seats! Treating yourself to a Platinum Membership is a no-brainer in our eyes. Platinum Members also receive a 20% discount at the GGStore, and free access to the soon-to-be-launched GGClass, which retails at $49.99 itself!
Live Events - Poker Tournaments
Head to the Live Event section of the ClubGG app to browse and choose upcoming events you want to play. All available live events are displayed here, complete with your route to winning a seat. The ClubGG satellites take place across three distinct stages, which you can read about below:
Satellites - Qualify & Win
Play and qualify through the three stages to win your prize.
Stage 1 - Hourly tournaments; top 20% advance to Stage 2
Stage 2 - SNG format; one in nine players advance to Stage 3
Stage 3 - At least three WSOP Main Event seats guaranteed
Win & Enjoy - Passport
You will notice a tab called "Passport" when you open the ClubGG app. This is essentially an e-wallet that you can use to buy into live poker tournaments all over the world via the ClubGG client. If you win a seat into the WSOP Main Event on ClubGG, you can choose which Day 1 you'd like to play. ClubGG will then register the details with the World Series of Poker, saving you all the hassle of having to register yourself. Choose the day and get ready to play.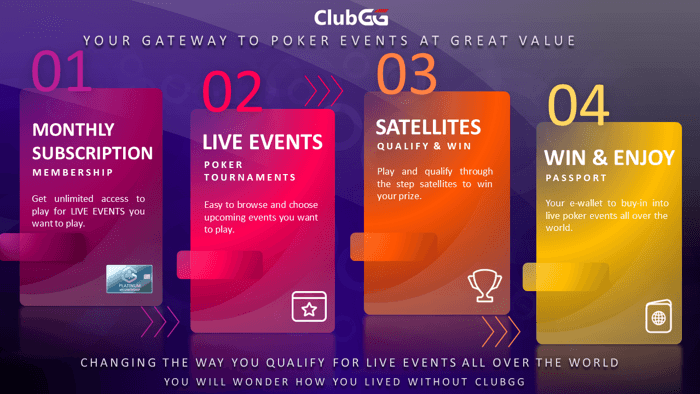 Join a ClubGG Poker Club
The ClubGG mobile app is available for both Android and iOS and is an innovative and straightforward play money poker app. The free-to-play poker app is available all to players around the world.

Chips are available free in clubs.
Join the PokerNews Club!
After you've downloaded the ClubGG app, head to your Home and click 'Search Club' and you'll be able to join the PokerNews Club.

The ClubID is 811180

You'll be able to play with friends, PokerNews Staff, and PokerNews readers, in fun cash games and tournaments!
How To Create a ClubGG Poker Club
The best way to get started with ClubGG is to create your own poker club and play with fake poker chips with your friends for free. In the app, you can easily create and join Poker Clubs for you and your friends to play in. These Clubs are fully customizable with players not only able to choose their own Club name, but also the Club image as well.
Within each Club, you can create ring games or tournaments for either No-Limit Hold'em or Pot-Limit Omaha games. Both Open Face Chinese Poker and Short Deck Hold'em are coming soon to the app, so watch this space!
Once you've selected which poker game you want to play, you can easily switch between Ring Game or Tournaments and edit the details for your perfect game.
ClubGG Ring Game Settings
Creating cash game tables is absolutely free in ClubGG!
Table Name
Table Size: 2-9 handed tables
Action Time: 13-25 seconds
Time Bank: On/Off, Start Timebank After 10-60 Seconds, Additional 10-60 second time bank after 10-30 hands
Blinds: 0.01/0.02-1,000/2,000
Ante: 0-5 big blinds
Buyin: 40,000-600,000 (1,000-2,000)
In the settings, you can also enable All-In Insurance and Running it Twice and change Game Restrictions (IP, GPS, Device, Chatting) and Game Length.
ClubGG Tournament Settings
Creating new tournaments is absolutely free in ClubGG!
Tournament Name
Table Size: 2-9 handed tables
Min/Max Players: 5-10,000
Action Time: 13-25 seconds
Time Bank: On/Off, Start Time Bank After 10-60 Seconds, Additional 10-60 second time bank after 10-30 hands
Starting Chips: 1,000-30,000
Late Registration: On/Off
In the settings, you can also change the Blind Structure, Guarantee, Payout Structure, and Breaks.
Club GG Gameplay
Once created, you will be able to see your Ring Games and tournaments within your Club, as well as details of players and stakes. The Club has filters for No-Limit Hold'em, Pot-Limit Omaha, and Multi-Table Tournaments enabling you to find your perfect game as quickly as possible.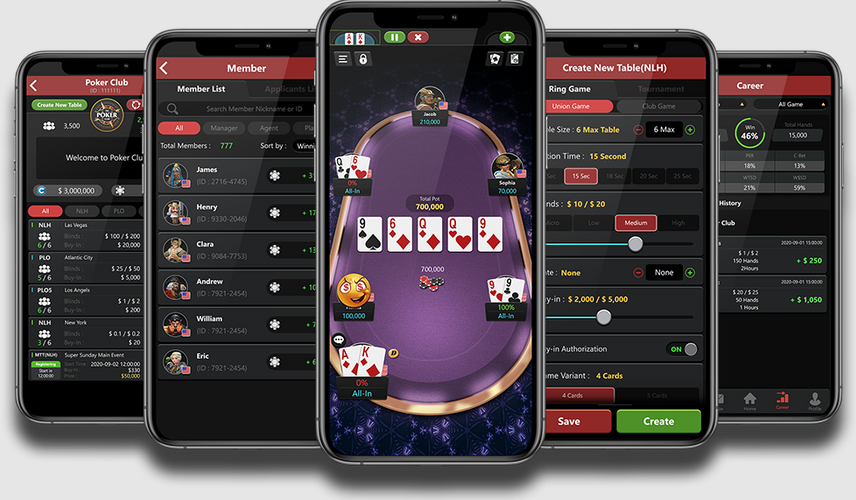 Club GG Profile
Your profile page continues helpful information about your ClubGG account. This includes game settings, history of tournaments as well as quick ways for you to change your language, your nickname, and avatar.
Inbox
From your inbox, you will be able to easily see messages sent to you. There are two sections: System and Club. System messages will be alerts from ClubGG about your account, whereas Club messages will be related to any clubs that you have created or are a member of.
ClubGG Support
From the app, you can easily access ClubGG support by heading to your Profile section and clicking on Help.
You can also email their support at [email protected]
CubGG operates within the sweepstakes rules where they are legal. The Site does not permit members to wager real money and has no ability to accept deposits as it is a "free play" site only. Tournament tickets in members' accounts have no monetary value and cannot be exchanged for anything of value and cannot serve as a medium of exchange. Any and all references in the Site to "pots," "limits", "betting" or the like are solely for instructional or illustrative purposes and do not involve wagering real money. To open an account and/or participate in any tournament offered on the Site, you must: be a natural person, at least 18 years old, who is assigned to the e-mail address submitted on your account registration form and located in an eligible territory, they can play for and claim prizes. Eligibility to participate for prizes is based on the State or Territory in which you reside. Local Laws determine the guidelines for the sweepstakes eligibility. If a territory does not allow for sweepstakes games, then it is deemed ineligible and users from that territory cannot participate in sweepstakes poker tournaments.
ClubGG FAQs
Is ClubGG Free To Play?

Yes. ClubGG is free to play, which enables you to experience all the tournaments and the ability to play with your friends across a variety of formats all from the state-of-the art GG Poker Client.
Is ClubGG Legal?

Yes, ClubGG is 100% legal. As the site does not allow members to bet or desposit any real money, the betting references are for instructional purposes and does not involve betting real money. In addition, ClubGG fllow the guidelines for for the territories of which sweepstakes is allowed based on local laws.
Does ClubGG Give You Free Coins?

When you're playing on ClubGG, one of the best ways to be able to gain free coins is by joining Club PokerNews (ID: 811180) which is 100% free to join - this will even if you 100,000 chips for free!
What are the requirements for redeeming prizes?

When you want to redeem prizes, you need to provide required elibigility which consists of proof of identity, proof of residency and proof of age. All three of these requirements need to be met in order to make the claim for your prize.