Top 10 Richest Poker Players & Net Worth Rankings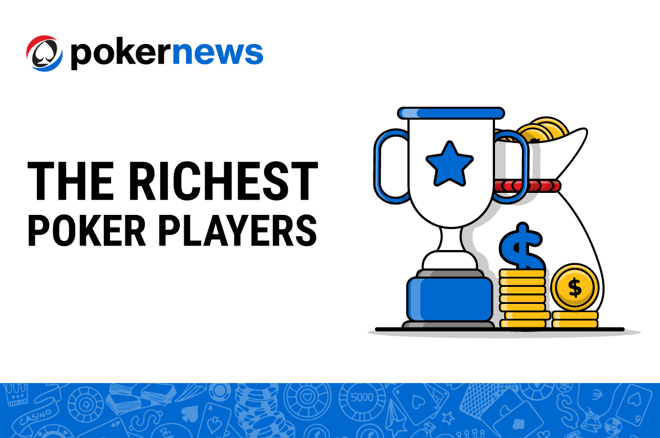 Money has an obvious fascination for poker players. We are always curious as to who won the most money, who lost the most, who the richest poker players are, and which poker players have the highest net worth.

"Poker may be a branch of psychological warfare, an art form or indeed a way of life," Antony Holden tells us in his book Big Deal, but he adds that "it is also merely a game, in which money is simply the means of keeping score."

Here in this list of the richest poker players, we've put broken down the ten biggest scorecards in poker.
10. Tony G - $36 million
9. Justin Bonomo - $57 million
8. Bryn Kenney - $57 million
7. Daniel Negreanu - $70 million
6. Doyle Brunson - $75 million
5. Chris Ferguson - $80 million
4. Sam Farha - $100 million
3. Phil Ivey - $125 million
2. Dan Bilzerian - $200 million
1. Andy Beal - $10 billion
Who are the Richest Poker Players by Net Worth?
Whether they are wealthy businessmen who treat poker like a game, or top players who treat it like a business, these sharks and whales are the richest poker players in the world.
#10 Tony G - Net Worth $36 Million
Antanas Guoga — better known in the poker world as Tony G — is one of the most recognizable names (and voices in poker) as well as one of the richest poker players in the world. Known for his tilt-inducing table talk, catchphrases, and vast net worth, Tony G's net worth comes from poker playing and business interests.
How Did Tony G Make his Money?
Tony G's considerable net worth comes in part from poker, in part from his businesses, and in part from his work as a politician in Lithuania. Tony G has over $11 million in live tournament winnings and no doubt more from cash games. He is also the CEO of Cyberphunk Holdings and owns a stake in several poker and blockchain-related businesses.
How Much Has Tony G Won From Poker?
Tony G's net worth owes a great deal to his poker successes. On top of his $11 million in live tournament earnings—much of which he earned in high roller events—he has won additional funds in cash games.
---
"I am the Champ!" Tony G Wins Second SHRB Europe Short Deck Title
---
He was an early adopter of short deck (in which he now has several tournament titles) and has done well out of making players tilt against him.
#9 Justin Bonomo - $57 million
Justin Bonomo started his gaming career as a Magic The Gathering player, before transitioning to poker in the early days of the poker boom. Coming up online, Justin Bonomo's net worth just kept growing as he moved up the stakes. Now Justin Bonomo's net worth is closing on $60 million.
How Did Justin Bonomo Make his Money?
Justin Bonomo made his money almost entirely from his poker career. Playing both online and offline, he has earned tens of millions at the game.
How Much Has Justin Bonomo Won From Poker?
Justin Bonomo has over $60 million in live tournament cashes, including three WSOP bracelet events. In the process he has managed to top . Bonomo's online success is a bit more mysterious now that sharkscope doesn't have the access it used to. However, we can assume it is substantial.
#8 Bryn Kenney - $57 million
Controversial poker star Bryn Kenney's considerable net worth originates in his poker playing. As well as a formidable tournament record, he also runs a massive stable of poker players and has started his own poker site 4Poker.
How Did Bryn Kenney Make his Money?
Bryn Kenney's net worth comes from playing poker, investing in other poker players, and his poker-related business ventures including 4Poker and some poker coaching. Kenny rose up during the poker boom topping the all-time money list on the Hendon Mob for a time (before Justin Bonomo overtook him).
How Much Has Bryn Kenney Won From Poker?
As well as his $57.6 million listing on the Hendon Mob, Bryn Kenney has earned money from online poker and from staking other players. While we cannot know exactly how much he has made over the years, he is known as a canny businessman.
#7 Daniel Negreanu - $70 million
As well as being one of the richest poker players, Daniel Negreanu is also one of the most famous. His net worth grew almost entirely from his poker bankroll. From going broke in the 90s to ruling as part of the poker establishment, his has been a long journey.
How Did Daniel Negreanu Make his Money?
One of the OG poker stars, Daniel Negreanu's net worth was built up first with his bankroll, then with lucrative sponsorship deals during the poker boom. He is one of the most successful tournament players in the world and is a regular in cash games at the highest level.
How Much Has Daniel Negreanu Won From Poker?
Daniel Negreanu is a poker all-rounder. He has played as one of the props of the Big Game, excels in tournament play, and has played huge volume as high stakes online.

Daniel Negreanu Hits $50M Poker Tournament Mark; How Much Has He REALLY Won?

Through all of this, Negreanu's net worth went from a few hundred bucks in the 90s, to $70 million today.
#6 Doyle Brunson - $75 million
Daniel Negreanu may be an OG poker star, but Doyle Brunson predates the idea that poker players could be any kind of star. Brunson grew up in dust-bowl era America and played basketball at school. He had to find a more sedentary outlet for his competitive spirit after an injury. It worked out great for him; he found poker and built a net worth of millions.
How Did Doyle Brunson Make his Money?
Doyle Brunson made his fortune hustling poker (and whatever other game he could find an edge in) for decades. In the noughties he was a sponsored pro for several poker websites, then he founded Doyle's room, selling it to ACR in 2011. He is also the author of several books including Super/System and an autobiography.
How Much Has Doyle Brunson Won From Poker?
Doyle Brunson has won tens of millions playing poker. His live tournament wins amount to just $6 million, but since the fifties until his retirement he played in some of the biggest cash games in the world. In particular, the Big Game, an ongoing high-stakes mixed game hosted for a long time at the Bellagio. It was here that Doyle made most of his money.
#5 Chris Ferguson - $80 million
Chris "Jesus" Ferguson was the forerunner of the modern solver-kid. As a computer science graduate in the late nineties, he produced some of the first push-fold tables for tournament poker. In 2000, he won the WSOP Main Event and went on to co-found Full Tilt Poker.

His reputation did not recover after Black Friday, but Chris Ferguson's net worth survived the disaster.
How Did Chris Ferguson Make his Money?
Chris Ferguson made his money initially from poker, earning around $10 million in live tournament winnings plus significant online poker winnings. He invested his winnings, most notably as a co-founder of Full Tilt Poker. This allowed him to turned ten million into tens of millions.
How Much Has Chris Ferguson Won From Poker?
Chris Ferguson was primarily a tournament player where the shorter stacks lent themselves to computer analysis in the early days of the 21st Century. As a result, his $10 million in live tournament cashes probably represents a significant percentage of his poker winnings. Though he did also do a $10 to $10k challenge that proved he was no slouch at online poker.
#4 Sam Farha - $100 million
When Sammy Farha first came to prominence on the poker scene he was already a formidable pro. However, he told the WSOP team that he was an investor, thereby paving the way to future invitations to poker games. A true hustler.
How Did Sam Farha Make his Money?
The Lebanese-born Sam Farha moved to America with his parents as a kid in the seventies. He went to university to study business administration but soon realised he could make more hustling pool, ping-pong, and Pac Man. In Texas, he discovered poker. Since then, Sammy Farha's net worth was earned chip by chip at the poker table.
How Much Has Sam Farha Won From Poker?
Sam Farha is a killer pot-limit Omaha player with three WSOP bracelets in the discipline. He made most of his money playing in the huge capped-pot PLO games that used to be a cornerstone of Vegas's live high-stakes cash game scene. All in all, it amounts to over $100 million.
#3 Phil Ivey - $125 million
Phil Ivey, the poker-pro's poker-pro, the Tiger Woods of poker, the G.O.A.T.

No one in poker has quite the reputation of Phil Ivey. He played with the best, in every format, for decades. Then after black Friday, he disappeared into the big-money private rooms of Macau. Only after COVID did he return to the US poker scene. Along the way, Phil Ivey's net worth has topped $125 million.
---
Phil Ivey Washed Up? Poker HOF'er Proves Critics Wrong
---
How Did Phil Ivey Make his Money?
A better question might be "how didn't he make his money?" Ivey's main skill is as a poker player, but he has tried his hand at investments, sports betting, table games, and most famously at advantage play baccarat.

Not all of these worked out for him. But he always had poker to fall back on.
How Much Has Phil Ivey Won From Poker?
There is simply no way of being sure how much Phil Ivey has won from poker. The majority of his play in in high-stakes cash games, many of them overseas, and most of them private. That said, we can be sure it is a lot. His live tournament cashes come to $38 million, and that is probably a minor fraction of his total earnings.
#2 Dan Bilzerian - $200 million
This is a controversial entry on this list, since it isn't clear exactly what Dan Bilzerian's true net worth is. The former "King of Instagram" is the son of disgraced businessman Paul Bilzerian, from whom Bilzerian's wealth originates. Bilzerian claims to have made his millions playing poker, but although he certainly plays the game, some members of the community remain skeptical about Dan Bilzerian's ability.
How Did Dan Bilzerian Make his Money?
Dan Bilzerian's money is believed to come largely from his father, his work as an influencer, and his struggling cannabis business Ignite.

He has used that money to play poker and even served as an ambassador for GGPoker before being quietly let go by the company.
How Much Has Dan Bilzerian Won From Poker?
No one can be sure. The only person making specific claims of Bilzerian's poker chops is Bilzerian. If you ask him, you'll get a number in the tens of millions. More likely the number is substantially lower than that.
---
Does Chance Kornuth's Story Prove Dan Bilzerian Made Millions Playing Poker?
---
#1 Andy Beal - $10 billion
Daniel Andrew Beal, better known as Andy Beal, started out building his net worth in real estate. Andy Beal's net worth continued to grow, until it exceeded $10 billion. Beal is also a self-taught mathematician and amateur poker player.
How Did Andy Beal Make his Money?
Andy Beal's net worth began as a small real estate portfolio which he started at the age of 19 in 1971. By 1988 he was rich enough to open his own bank, Beal Bank. He also joined the private space race with Beal Aviation, but soon closed it, returning to the more solid returns of the banking and real estate markets.
How Much Has Andy Beal Won From Poker?
In the early-2000s, Beal took on a group of poker pros in the highest-stakes poker game ever played as detailed in Michael Craig's The Professor, The Banker, and the Suicide King.

The game was limit Texas holdem played with $5,000-$10,000 limits against a team of pros including Phil Ivey, Todd Brunson, and Jennifer Harman. By the end of the game, the stakes had been raised to $50,000-$100,000 and the players were seeing ten million dollar swings across sessions. Some estimates put his losses at around $6 million overall.
Richest Poker Players FAQs
Who is the richest poker player ever?

Andy Beal. Although he earned his money in the world of business, his participation in the biggest poker game ever played makes him a key part of poker history and the richest poker player ever. Andy Beal's a net worth is around $10 billion.
How much do poker pros make?

Poker pros can make anything from minimum wage to millions of dollars per year. It all depends how good they are at the game and how well they protect and invest their earnings.
Does Warren Buffet play poker?

Warren Buffet's net worth is $105 billion, making him one of the ten richest people in the world. He's not an avid poker player, but he does pick up the cards from time to time. He has certainly learned from the game. In a letter to his shareholders, he popularised the quote, "If you've been playing poker for half an hour and you still don't know who the patsy is, you're the patsy."
Who is the richest female poker player?

Jennifer Harman. Jennifer Harman has an estimated net worth of $15 million and has a decades long record of playing profitably in the biggest cash games.
Will Shillibier is based in the United Kingdom. He started working for PokerNews as a freelance live reporter in 2015 and joined the full-time staff in 2019. He graduated from the University of Kent in 2017 with a B.A. in German. He also holds an NCTJ Diploma in Sports Journalism.