What Are The Best Ways to Release Your $1,000 TigerGaming Bonus?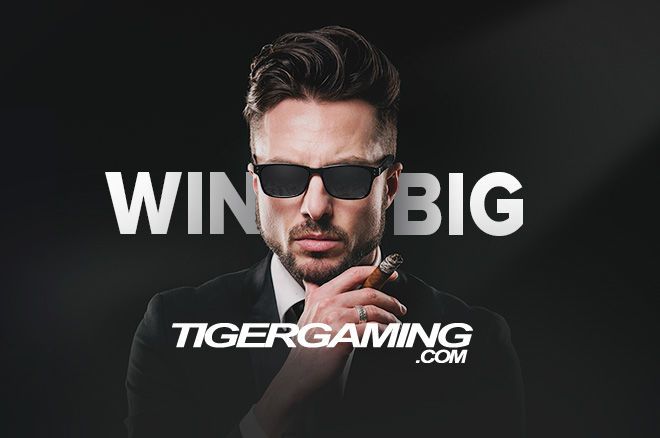 TigerGaming offers a generous $1,000 welcome bonus to new customers who create their accounts via PokerNews links. Getting your hands on this bonus cash is easy, as you're about to discover, but how do you release the bonus money into your playable balance? You have 30 days from when the bonus is credited to release as much of it as possible. Here is how to claim the TigerGaming welcome bonus and the best ways to release those funds.
How to Claim the TigerGaming Welcome Bonus
The welcome bonus at TigerGaming is a 100% match up to $1,000 bonus on your first deposit. Start by downloading TigerGaming via PokerNews, and creating your free account, deposit at least $50, then send an email to [email protected] with the following information:
Put "NEWTG" in your email's heading
State your account name and number, your deposit amount, and the time of your deposit while mentioning "NEWTG."
The bonus will be credited to your account within 24 hours.
Release the bonus in $5 increments each time you contribute $50 to the rake or pay in tournament fees.
How to Release Your TigerGaming Welcome Bonus
As mentioned, the TigerGaming welcome bonus releases into your playable account balance in $5 chunks each time you contribute $50 to the cash game rake or pay in tournament fees. The constant trickle of the bonus landing in your account helps to boost or keep your balance topped up.
EXCITING! - Buckle Up as TigerGaming Adds Straddles to Their Cash Game Tables
Cash Games
Cash games are always king when it comes to releasing any online poker welcome bonus, and that is the case at TigerGaming. Pots are frequently raked in cash games, which helps the welcome bonus release faster than any other method.

TigerGaming offers cash games with a straddle, and that additional preflop money drives more action, makes pots larger, and results in it being more likely the pot will be raked, which is great for your releasing your bonus.

Boost cash games are TigerGaming's take on "fast-fold" poker, much like Zoom at PokerStars, fastforward at PartyPoker, and Snap at 888poker. Pots tend to be smaller in these games, but you can play many more hands in the same time period compared to a traditional cash game.

The fact cash games run 24/7, at a variety of stakes, and you can jump in and out of these games at will, make them perfect for clearing bonuses.

Get Ready to Turn Up the Heat at TigerGaming with New Sit & Go Modes!
Sit & Go and Windfall Tournaments
Sit & Go are single-table tournaments that start when enough players have registered for them. Depending on their blind structure, Sit & Go (SNG) can be over in 15-20 minutes. Once you learn the optimal SNG strategy, it is possible to mass-multi-table these games, leading to plenty of bonus money landing in your account.
SNG traffic at TigerGaming isn't the best; it is at its busiest during peak Eastern Time (ET) times.
Windfalls are TigerGaming's jackpot sit & go games. They are three-handed hyper-turbo tournaments that shuffle up and deal once three players have bought in. The prize pool is randomly selected before the first hands are dealt, and the super-fast blind structure ensures games rarely take longer than ten minutes to conclude. The rake, or tournament fees in this case, tends to be lower than other tournament formats, but you can play many more Windfalls in a short space of time compared to other tournament poker variants.
Five Excellent TigerGaming Poker Tournaments That Won't Break the Bank
Tournaments
Multi-table tournaments (MTTs) run around the clock. Their buy-in is mainly made up of money that goes into the prize pool and a small percentage that TigerGaming keeps for running the event; that latter part is known as the tournament fee, although some people call it the juice. In a $5.50 tournament, $5 goes into the prize pool and $0.50 is the rake. Likewise, a $55 tournament sees $50 go into the prize pool and $5 retained as tournament fees.

If you play higher stakes, MTTs can release large chunks of the TigerGaming welcome bonus but a good MTT player could play in the same tournament for several hours, meaning it is challenging to log some serious volume unless you are prepared to play several tables simultaneously.
Conclusion
Cash games are the best way to clear the TigerGaming welcome bonus for most people. However, PokerNews suggest playing the format and variants that you are best at and that you enjoy the most. Look at the bonus as exactly that, bonus money that is a gift as you play the games you love.