Wynn Poker Room Features
Open 24 hours. 7 days a week.
World-renowned poker tournament series.
Wide variety of cash games at different stakes.
Easy access from Wynn Self park garage.
Preferred poker room rates available.
Popular slate of daily tournaments w/ $100K in GTDs each week.
Top-notch food and drink service.
Tables equipped with phone chargers.
Wynn Poker Room Details
Luxurious is the first word that pops into your head when thinking about Wynn Las Vegas. The spacious property opened to the public in 2005 on the famous Las Vegas Strip.
The project was named Le Rêve, French for "the dream" when it was in its infancy before becoming Wynn Las Vegas, or simply the Wynn, before its grand opening in April 2005, named after its original founder, Steve Wynn, the same casino mogul who built other mega resorts such as The Mirage and Bellagio. Wynn Las Vegas and its neighboring Encore, a twin tower built in 2008, are considered one of the world's finest hotels.
Needless to say, the Wynn poker room is one of the best places to play poker in Las Vegas with 24/7 non-stop poker action on tap. The poker room was originally located on the Wynn side of the facility, but moved to a brand-new luxurious spot at Encore in 2016.
Wynn Las Vegas Poker Room Contact Information
| | |
| --- | --- |
| Phone | |
| (702) 770-7654 | |
| Officials | |
| Ryan Beauregard (Director of Poker Operations) | |
| Ray Pulford (Tournament Director) | |
| Social Media | |
| | Twitter: |
The Wynn Las Vegas Poker Room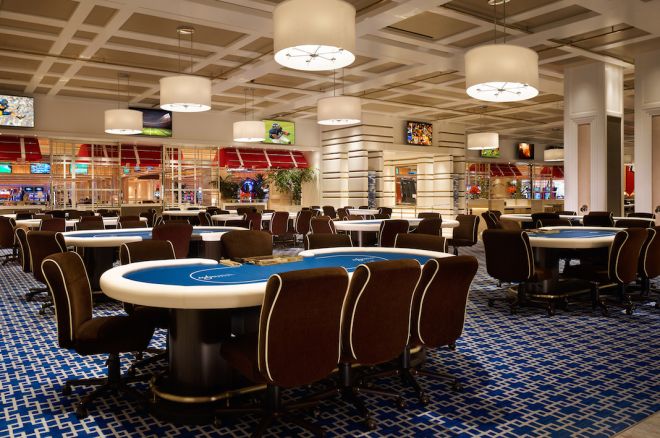 at Wynn Las Vegas is located at Encore and is an expansive room. It offers an elevated poker experience with 28 tables, each equipped with USB charging points. When big tournaments take place, the card room will add additional tables out onto the casino floor.
Cash games run 24 hours per day, including No-Limit Hold'em, Pot-Limit Omaha, and Mixed Games. $1/$3, $2/$5, and $5/$10 No-Limit Hold'em games are always plentiful, as are $1/$2 and $5/$5 Pot-Limit Omaha. $9/$18 Mixed Games run several times per week, and you can find $10/$25 No-Limit Hold'em cash games taking place most weekends.
Cash game players are urged to sign up for the Wynn Las Vegas' Red Card loyalty program because doing so earns you $1.50 per hour in comp points.
The Wynn caters to multi-table tournament players, too. Daily tournaments with buy-ins of $200 to $300 run outside of festivals and series, but it is the primary tournament festivals where the Wynn shines.
A trio of seasonal festivals run in Spring, Summer, and Fall and come with some massive guaranteed prize pools. Buy-ins for these special series tend to fall between $400 and $2,200 and are accompanied by guarantees in excess of $750,000.
In June 2021, the inaugural Wynn Millions took place, a $10,000 buy-in event with a $10 million guaranteed prize pool. Some 1,328 players bought in, creating a $12,483,200 prize pool where the eventual champion walked away with an incredible $2,018,666.
Wynn Las Vegas Poker Room Cash Games
| Game | Stakes |
| --- | --- |
| NL Hold'em | $1/$3 |
| NL Hold'em | $2/$5 |
| NL Hold'em | $5/$10 |
| NL Hold'em | $10/$25 |
| PL Omaha Hi | $1/$2 |
| PL Omaha Hi | $5/$5 |
| Mixed Games $9/$18 | |
The expansive poker room at the Wynn, which is actually located in The Encore, is well-known for its busy cash games. The room features some 28 tables, each equipped with USB charging points and automatic card shufflers. $1/$2, $2/$5, and $5/$10 No Limit Hold'em runs all the time, so you will never be short of a game to play. $10/$25 No Limit Hold'em also runs, but is usually limited to weekends. PLO players are well-catered for with a $1/$2 and $5/$5 PLO Hi game always runnings. The rake at the Wynn is similar to other venues on the Strip with pots raked at a rate of 10% up to $5.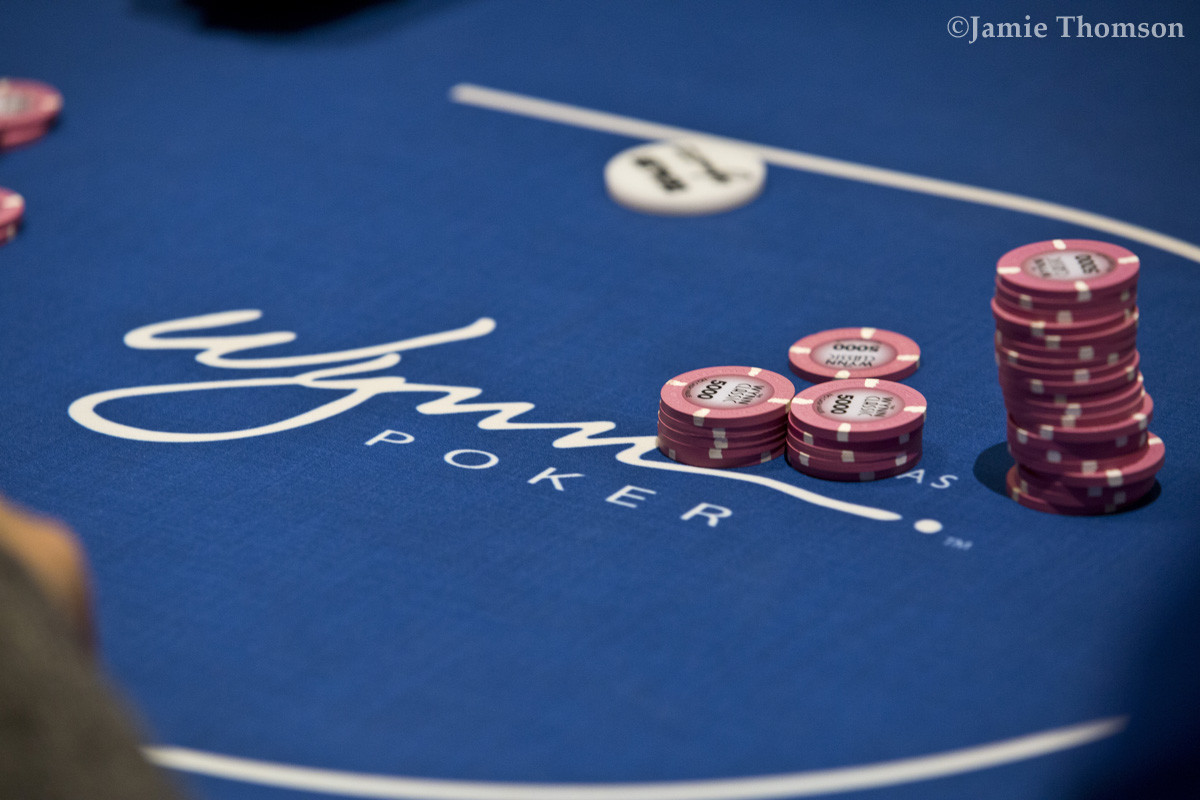 Wynn Las Vegas Poker Room Tournaments
The focus of Wynn is on its bustling cash games but the casino does run a daily $200 No-Limit Hold'em tournament every day at 12:00 p.m. The buy-in increases to $300 on Saturdays. All daily tournaments have unlimited re-entry and feature guarantees of up to $20,000. One thing the Wynn does exceptionally well is run poker tournament festivals. These run several times per year, usually at the change of the seasons. For example, The Wynn Spring Classic, Summer Classic, and Fall Classic run each year with a wide variety of different formats, variants, and buy-ins from $400 to $3,500 and above.

Wynn has become one of the top spots for tournament poker in the world. In 2021 and 2022, the Las Vegas Strip casino hosted a $10 million guarantee Wynn Millions Main Event, both times surpassing the guarantee. In December 2022, the card room will host a $15 million guaranteed World Poker Tour event, making it the largest guaranteed prize pool in live poker history.

Wynn is also credited with popularizing the popular Mystery Bounty format beginning in the summer of 2021. Wynn set the standard for Mystery Bounty tournaments and have inspired others venues and tours to replicate the format.

Is This the Best Wynn Mystery Bounty Reaction Ever?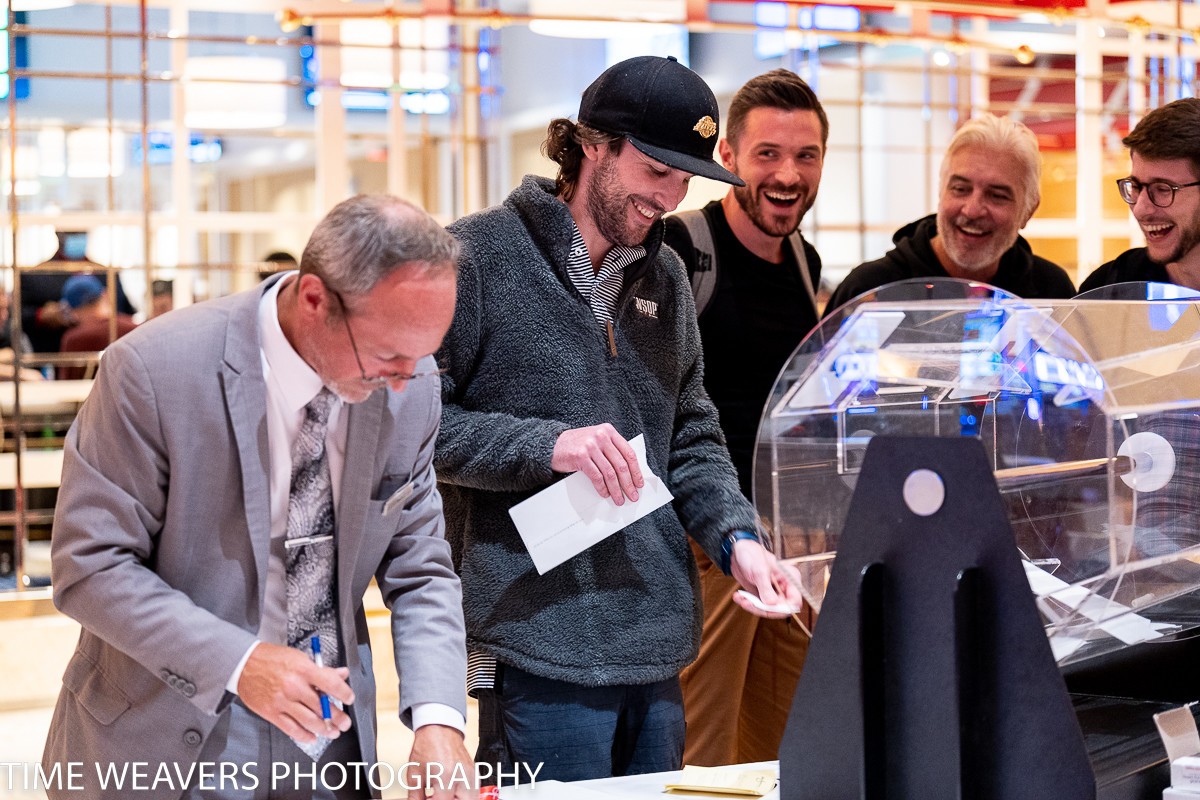 What Is It Like To Play In Wynn Las Vegas Poker Room?
The sheer size of the poker room is the first thing that stands out; it takes p 8,600 square feet next to the Encore Players Club. You will find 28 tables with USB charging points, while a staggering 37 65" high-definition television stream live sports and display the various poker room information. Low-to-mid-stakes cash games are the Wynn's speciality, and they prove popular with those who like playing deep-stacked because the maximum buy-ins are slightly higher than elsewhere in Las Vegas. Poker players earn comp points at a rate of $1.50 per hour. These can be exchanged for award-winning cuisine at most of Wynn's amazing restaurants.
When Did The Wynn Las Vegas Enjoy Its Grand Opening?
Steve Wynn first revealed plans for the Wynn in August 2001. The American real estate developer and art collector had already overseen the construction of the Golden Nugget, The Mirage, Treasure Island, and the Bellagio in Las Vegas over the years before selling his Mirage Resorts company to MGM Grand Inc, now known as MGM Resorts International, in 2000.
Wynn took his company, Wynn Resorts, public soon after. His first project was a 45-story, 2,455-room resort featuring a four-acre lake to be built on the site of the Desert Inn. Wynn named the project Le Rêve.
Construction began on October 23, 2001, with the implosion of the Desert Inn's main tower. Almost four years later, on April 28, 2005, the Wynn Las Vegas as we know it today opened its doors for the first time. The date was significant because it is the birthday of Wynn's wife, Elaine Wynn, the 55th anniversary of the Desert Inn opening, and exactly five years to the day that Wynn purchased the Desert Inn site.
The Wynn Las Vegas Hotels
The is stunningly beautiful and is the perfect hotel if you want to enjoy almost unrivaled luxury during your stay. Condé Nast Traveller's Gold List states Wynn Las Vegas is one of the top hotels in the world.
Featuring 2,716 rooms across 45 floors, the 614-foot (187 meters) Wynn Las Vegas is a sight to behold. Its rooms range from 640sq ft (59 square meters) to 3,224 sq ft (299.5 square meters) villas. Costs for a standard room vary from approximately $180 to $700 per night. However, there are special rates available for poker players and those who frequent the Wynn Casino.
The Wynn is adjacent to the Encore, which takes the total hotel occupancy to a staggering 4,748 rooms, making the hotel the world's seventh-largest. You should never have a problem finding somewhere to rest if you consider staying at the Wynn.
Golf enthusiasts should be delighted to learn the Wynn Las Vegas features an 18 hole pro golf course on its grounds. You do not have to leave the Las Vegas Strip to fit in a round or two of golf. The is a 6,772-yard, par-70 championship length course in a beautiful setting. Do not let the views lure you into a false sense of security because the course is challenging, and players encounter dreaded water on 12 of the course's 18 holes.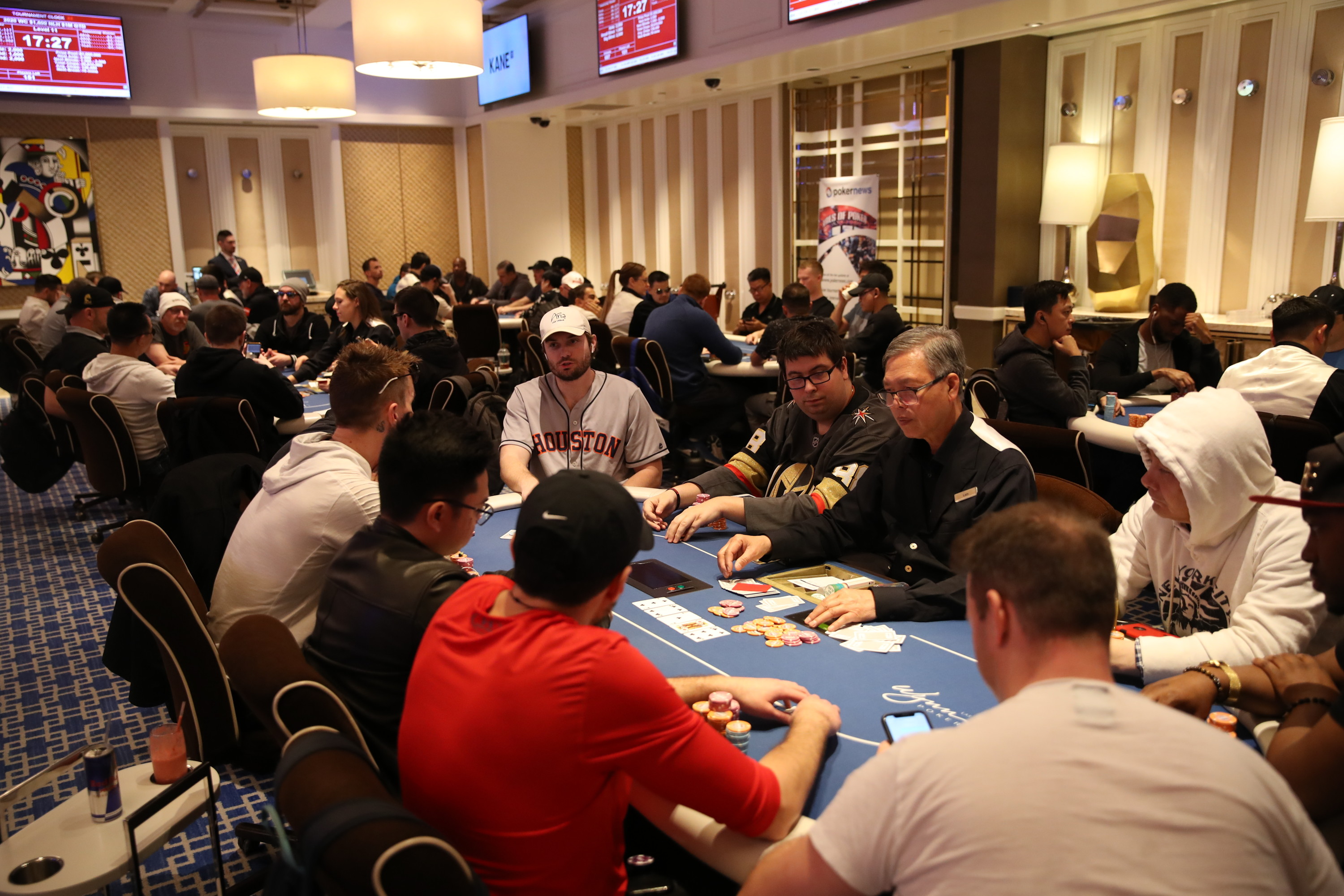 The Wynn Las Vegas Casino
Until Resorts World Las Vegas opened to the public in June 2021, the Wynn Las Vegas housed the largest casino gaming floor in "Sin City." Wynn still claims to be the largest because it combines the casino space of the Encore, which gives it a staggering 186,187 sq ft of gaming floor.
Combing the casinos gives gamblers the chance to play on almost 2,200 slot machines and try their luck at 240 gaming tables. Every table game you can think of is present and correct at the Wynn. Blackjack, roulette, craps, video poker, and more run around the clock. You name it, and the Wynn likely has it.
There is even a large sportsbook if you fancy placing a wager on the plethora of sporting events taking place across the globe.
Dining at the Wynn Las Vegas
Whether you are a seasoned gastronome or just want to tuck into some expertly crafted fresh dishes, the Wynn Las Vegas is the place for you. It features no fewer than ten fine dining restaurants and 11 casual dining experiences. Right next to the poker room, you'll find a delicious Pan-Asian restaurant with flavors inspired by Chinese, Japanese, Indian, Singaporean, and Thai cuisine — one of the best places to use your $1.50/hour poker comps. Some of the other most popular dining options within the Wynn-Encore Resort include:
- an exquisite Italian restaurant famous for its carpaccio alla Cirpiani, and Bellini cocktails
- a Japanese restaurant serving pristine sushi and sashimi amid exotic gardens and waterfalls
- serving Italian coastal cuisine, which is flown in fresh daily from Italy and served with a view of its romantic lagoon
- Southeast Asian cuisine brought to you by executive chef Soon Look Ooi
Clubs and Bars at Wynn Las Vegas
Kicking back and relaxing while enjoying an ice-cold beverage is extremely popular with Wynn's visitors.

is a semi-secluded venue located between Lakeside and the SW Steakhouse, which offers impressive views of the Wynn's new Lake of Dreams show. Head to the that overlooks the Encore's pools if hand-crafted cocktails are what takes your fancy.

Las Vegas is known for being sun-drenched, so what better way to make the most of the glorious sunshine than by frequenting the . Team members are ready and waiting to assist you with food and drink orders while you soak up the sun around the crystal clear pools or cool down in the shade in one of the many cabanas.

The Encore Beach Club turns into the later in the day because pools are not only enjoyed while the sun is shining! You have to see the EBC at Night for yourself to comprehend how fantastic the area looks, especially under the moonlight.

is Wynn's bustling yet elegant nightlife spot. The lavish interior surrounding the Encore's European pool is breathtaking, while the entertainment from some of the world's most-respected DJs is second to none.
Wynn Las Vegas Shopping
You can shop until you drop at the Wynn Las Vegas, thanks to almost and the Wynn Plaza shopping complex, a $54 million expansion that opened in spring 2018.
Alexander McQueen, Breitling, Cartier, Chanel, Christian Dior, Givenchy, Louis Vuitton, and Stellar McCartney are among the 40+ shops waiting to welcome you through their doors.
Wynn Las Vegas Residencies
The Wynn Las Vegas takes a different approach to its entertainment in that it has a resident show but also regularly schedules performances from global superstars in addition to up-and-coming acts.
Wynn's Lake of Dreams show is a multimedia show like no other. It blends colorful puppetry and state-of-the-art lighting and sound to create an unforgettable experience. As the name suggests, Lake of Dreams takes place in the Wynn's three-acre Lake of Dreams, framed by 1,500 pine trees and a 90-foot performance waterfall. You must see it even if you are not stopping at the Wynn.
Wynn Las Vegas FAQ
When did Wynn Las Vegas open for the first time?

The Wynn Las Vegas opened to the public on April 28, 2005. The adjacent Encore opened on December 22, 2008.
How do you book a room at Wynn Las Vegas?

Booking a room is simple at the Wynn Las Vegas website
Who owns Wynn Las Vegas?

Wynn Resorts is the current owners of both the Wynn Las Vegas and Encore
Can you play poker at Wynn Las Vegas?

Poker runs 24 hours per day and offers both daily tournaments, seasonal festivals, and around-the-clock cash games
Is the Wynn on the Las Vegas Strip?

Yes, it is built on the site of the Old Desert Inn Hotel. At 614-feet high, the Wynn is easy to spot from almost anywhere on the Strip.
Does the Wynn Las Vegas host poker festivals and series?

The Wynn is famous for its poker festivals held in the Spring, Summer, and Fall.
Is there parking at the Wynn?

Self-parking is complimentary for all Wynn and Encore guests. Valet parking is also available at $25 per day; valet is complementary to Tower Suite guests, Private Access guests, and Black Tier Wynn Rewards members.
What was the cost of building Wynn Las Vegas?

The Wynn cost $2.7 billion to construct. The Encore came with a $2.3 billion price tag.
How big is Wynn Las Vegas?

Combined with Encore, Wynn Las Vegas boasts almost 4,750 rooms, making it the seventh-largest hotel on the planet, one with more than 186,000 sq ft of gaming floor.