Poker Coaching: The 14 Best Poker Training Sites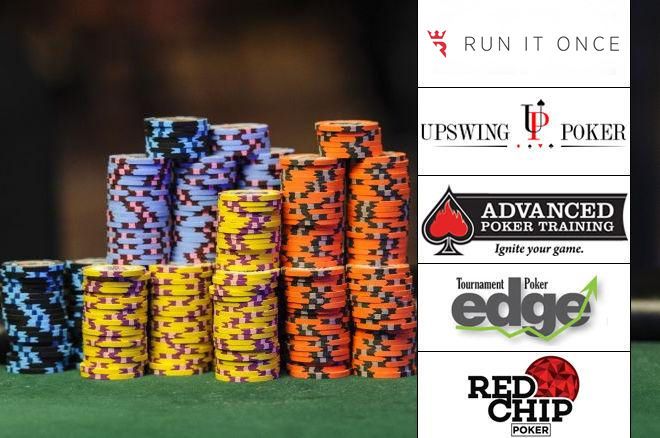 Finding the best poker training site is hard. Poker coaching is a serious matter, and finding the right program for you isn't always easy. That's why we reviewed all the most popular poker coaching and poker training sites.
A lot of self-proclaimed 'poker pros' have launched poker coaching programs — but, are they really worth the money they ask? In this guide to the best poker training sites and poker training software out there, you'll find:
An overview of all the best poker training sites and how they work
How to start poker training online for free
What is the best free poker training online for your skill level
And lots more.
Top Online Poker SitesPlay online poker games on the top online poker sites this year and join thousands of other players in exciting games of Texas Hold'em, Omaha, and more!
---
Best Free Poker Training Options in 2023
Why spend any money if you are just starting out with many free poker training classes and other material available for free on YouTube and online poker rooms providing free poker educational material to provide any player willing to learn basic poker training.
PokerStars
Whether you are new to poker or are a seasoned veteran, you would've definitely heard of the titan poker brand PokerStars

PokerStars has been operating for over 20 years and is by far the biggest real-money online poker room in the world.

So, it should not come as a surprise that PokerStars also boasts a collection of some of the best free poker training courses, which is available at .

The 'poker school' is especially useful for novice poker players but there is plenty of content for players who have been in and around the game for several years or more.

There are more than 20 free sections, each filled with plenty of lessons. It has more of a look and feel of a paid training site than any of the other options already mentioned.

In addition, there is plenty of free content released just about daily about a variety of topics under the 'Strategy' menu option.

While some of the articles may be of no use to you, we bet there are plenty of topics covered that can help take your poker game to the next level.
---
888poker
888poker is one of the most reputable online poker brands in the world.

When you head to 888poker's website, the first thing you should see at the top of the menu is 'How to Play'. This section will offer some basic knowledge on not only Texas Hold'em, but Omaha poker, Omaha hi/lo, and 7 Card Stud as well.

There is a section dedicated purely to poker terminology, which will become important to know as you progress as a poker player.

This is not all, as 888poker is releasing plenty of basic and advanced poker training in its 888poker eMagazine with informative articles and interesting strategy pieces. 888poker also regularly uploads poker strategy videos to its , where the sites ambassadors are more than generous with their tips and tricks to become better at poker.
---
---
PartyPoker
PartyPoker was one of the pioneers of online poker and in recent years has reinvented itself to become one of the most player-friendly online poker rooms in the world.
Not only can you find free training on Texas hold'em straight on PartyPoker's website but you will also find training material on Omaha and Short Deck Poker, where resources anywhere are limited since it is a relatively new variant when compared to the other more established and more popular poker games.
In addition, PartyPoker is constantly publishing free poker training articles on its website on a variety of topics including bankroll management, cash game tips, how to approach satellite tournaments, and much more.
There is also the 'MyGame Whiz' feature which can help transform you into the poker player you were born to be. MyGame Whiz allows you to learn from your mistakes as you can get feedback on your hands.
---
Unibet Poker
Unibet Poker is home to many recreational poker players around the world in no small part thanks to its innovative software and friendly ambassadors including Dara O'Kearney and David Lappin to name a few.
O'Kearney not only wrote the most authoritative book about poker satellites but he teamed up with Lappin to produce plenty of free poker strategy content in their award-winning podcast The Chip Race.
This is all great but if you are first starting out you should also consider checking out Unibet Poker directly as they offer a robust online poker guide broken out into the following chapters:
Beginner Guides
Texas Hold'em
Omaha
Poker Strategy
Poker Psychology
Poker Tournaments
---
Top Poker Training Sites (Paid)
Once you have absorbed most of the free poker training classes, you can start to think about some of the paid online poker training sites to provide you with a more advanced poker training.

Some cost more than others but they all offer some free content to get your appetite wet before committing. Some online poker training sites also offer a money back guarantee for a short period of time. Here is a look at some of the more popular options:
1. Poker Coaching
Jonathan Little is well-known for providing tons of free quality poker strategy tips at PokerNews, social media, and on his personal website .

This is just a taste of what Little's coaching methods can do for those aspiring to take their game to the next level as Little has his own training site that provides both free and premium content.

The poker pro and coach needs little introduction as he was one of the original online grinders crushing sit-and-go's and tournaments. His success hasn't been limited solely to online as Little has accumulated more than $7 million in live tournament earnings, which includes two World Poker Tour (WPT) titles and the WPT Season VI Player of the Year.

Little is more than just a great player as he is able to break down precious poker tournaments strategy in a way that any aspiring player can understand as one can see for themselves with a plethora of free content at Poker Coaching.

However, Poker Coaching is more than just about Little as the site features many prominent poker pros including Faraz Jaka, Justin Saliba, Jonathan Jaffee and Matt Affleck to name just a few!

In addition, Poker Coaching differentiates itself from many other options as it is a more hands-on approach. Poker Coaching encourages its members to apply what they learned in its videos, training courses, and webinars by putting its players to the test with tons of quizzes and homework. Poker Coaching offers three different plans with costs as follows:
| Plan | Price |
| --- | --- |
| Free Membership | Free |
| Standard Membership | $49.99 per month |
| Premium Membership | $99.99 per month |
There is little reason not to check out the Free Membership plan with 20 hand quizzes, 10 advanced coaching classes, and preflop charts for 100, 150, and 200 big blinds. This is valuable in and of itself and will give you a good taste as far as the quality you can expect with either the Standard or Premium Membership plans. Those willing to make an investment in their game should get a good return from the Standard Membership with the following included:
500+ hand quizzes
200+ advanced coaching classes
New training every week
GTO preflop charts for cash games and tournaments
Master the fundamentals
The Premium Membership could prove to be an even better investment depending on how much time you want to dedicate to your game as this includes everything Poker Coaching has to offer including:
---
2. Run It Once
Phil Galfond's poker coaching site Run It Once has been up and running since 2012 and describes itself as "the world's leading poker strategy community."

Those curious to check it out can do so for free just by getting an account that provides full access to the site's strategy forum where members post hand histories, discuss concepts and theories, and talk about anything else poker.

On top of that, all members can check out three free 'Elite Videos'.
But it is the site's huge and constantly expanding library of video content geared toward players of all stakes and games that distinguishes "RIO" from other instructional sites.

Those willing to invest can choose between two tiers of membership:
"Essential" (low stakes)
"Elite" (high stakes)
Joining "Essential" costs $24.99/month and gives users access to five new "Essential" videos per week and the 1,500-plus video Essential Library. "Elite" members get all of that, plus nine more "Elite" videos each week, as well as the nearly 2,400-video Elite library at a cost of $99.99/month.
Galfond describes "Essential" as geared toward games with stakes under 500NL, with "Elite" directed toward 500NL and up. The line-up of professional players forming the "Run It Once Pro Roster" who have made instructional videos for the site is impressive.

It comprises more than 100 different players including Galfond, Ben Sulsky, Jason Koon, James Obst, Daniel Dvoress, Christopher Kruk, George Danzer, Sam Grafton, Jennifer Shahade, Brian Rast, Fedor Holz, Stephen Chidwick, Tommy Angelo, and Ola Amundsgard, and more.
---
3. Upswing Poker
One of the new poker training sites getting a lot of attention during the past few years thanks in part to the high profile of founder Doug Polk, is Upswing Poker.

Launched in 2015, Polk and Ryan Fee head a list of pros contributing to the site's numerous poker coaching products.

Upswing Poker provides at no cost a few handy resources that include:
eight "preflop raise charts" designed to improve starting hand selection and strategy (and win rates)
a list of 20 "secret" poker rules when playing three-bet pots
10 Laws of Live Poker
For a discounted price of $7, they offer the "Postflop Game Plan" that uses videos to help players learn how to categorize poker hands profitably.

Those offerings are both designed to encourage players to join the "Poker Training Lab," a.k.a. the "Upswing Poker Lab," which allows access to the "complete Poker Training Library" of learning modules, videos, and hand charts, as well as access to the site's Facebook group.
To join the Upswing Poker Lab requires a $49/month subscription plus an initial $99 sign-up fee, or users can get a discount by subscribing for six months ($299) or one year ($499). Those willing to spend more have additional options under the site's "Advanced Poker Training" heading. These include the following courses:
"Advanced Heads-Up Mastery" by Doug Polk
"Tournament Master Class" by Doug Polk and Pratyush Buddiga
"Mixed Game Mastery" by Jake Abdalla
"Elite Cash Game Mastery" by Andres Artinano.
Fans of Pot Limit Omaha will also be pleased to find out about the separate "PLO matrix", which is available for $49 per month. This looks at:
Cash Game Ranges
Tournament Ranges
Multiway Ranges
5 Card PLO Ranges
In addition, the site boasts advanced poker tournament training for higher stakes players led by one of the biggest names in the game Nick Petrangelo, who has two poker courses dubbed "Winning Poker Tournaments" and "Advanced High Stakes MTT Sessions".
The courses aren't cheap with most requiring a one-time fee ranging from $299 up to $999.

However, this could be a small price to pay, especially for higher-stakes players, when considering how the poker training courses can advance your game.
---
4. Pokercode
is one of the newest poker training sites and has taken the poker world by storm after it was founded by high-stakes poker phenoms Fedor Holz and Matthias Eibinger in 2019.

The training site focuses not only on tournaments with MTT Coaches Holz, Eibinger, and Simon Rønnow, but also on cash game players looking to improve under the guidance of Steffen Sontheimer, acting as the Pokercode Cash Game Author & Coach.

Hiring any of these coaches in the past could cost thousands of dollars an hour. A Pokercode subscription will cost much less with three different plans available. Pokercode stands by its product offering new customers a 14-day money-back guarantee with no questions asked.
| Plan | Price |
| --- | --- |
| Monthly | €99 |
| Quarterly | €214 (€71.33 per month) |
| Annual | €699 (€58.25 per month) |
There is also a free follower plan which gives you access to one live coaching per month, 11 poker video lectures, and limited access to the Pokercode community. Pokercode not only provides world-class training videos but also gives its community the tools it needs to absorb it as well as an innovative note-taking feature along with quizzes and challenges after each session. This also is the case for the exclusive live training sessions provided Pokercode where the community also challenges each other to work together on improving their games. Here is a look at just some of what is available for Pokercode community members:
8+ exclusive Live Coachings per month in Cash Game & Tournaments
Access to 100+ extended lectures
Direct support from Fedor Holz, Matthias Eibinger, Simon Rønnow, and Steffen Sontheimer
Best Poker Tools, including Pokercode Rangeviewer
Ever-growing content library, new lessons every week
Access to exclusive Pokercode Community
Pokercode is more than just a training site as they have developed a tight poker community. This is not only evidenced in the dedicated Slack group with more than 1,000 members but also with its Grindhouse now on its second version where a group of eight poker players live together in the Austrian Alps for what is described as a once-in-a-lifetime opportunity to learn from the best of the game.

In addition, Pokercode launched its live Pokercode Festival in September 2021 with its first festival taking place at Banco Casino Bratislava. Pokercode members got to meet for the first time while competing in high-quality live tournaments. In addition, there were many community activities planned including a live coaching session, a party, a pub quiz, and much more.
---
5. Advanced Poker Training
First launched by brothers Allen and Steve Blay in 2007, Advanced Poker Training has evolved into a well-established poker training site that offers users a somewhat different and potentially more immersive experience than do most sites.

At the heart of APT is its "Poker Training Game" that allows players to play online against sophisticated "virtual" opponents in cash games (full ring, six-max., or heads-up) and tournaments (SNGs, MTTs, and "final table"-only). The multi-table tournaments are the most popular among users and can be customized in a variety of ways — you can even play an MTT against 8,000 opponents.

The site also features interesting "Beat the Pro" challenges that involve watching a video concerning a particular topic, playing "challenge hands" against computerized opponents, then watching a replay of the hands you played with audio commentary by pros like Scott Clements, Jonathan Little, Mike Caro, Scotty Nguyen, David Williams, and Lauren Kling and others explaining how they would have played the same hands.

There's also the "Combat Trainer" providing repeated drills of common scenarios.

There's a lot more on APT as well — instructional videos (including ones featuring former WSOP Main Event champs Qui Nguyen and Scott Blumstein), various tools, games for mobile devices designed to improve poker knowledge, a blog, a poker forum, and more.

There are even periodic "live" tournaments in which APT members can play against one another on the site. Also useful, every hand played on APT is saved and thus available for later review and to be used to produce weekly reports and other data.

Creating an account on APT is free, and allows access to some of the beginning level Poker Training Games. Full membership is $39.97/month, or you can get 6-month ($180) and yearly subscriptions ($300) which work out cheaper per month. However, the latter two options are billed as one payment.

If you know Advanced Poker Training is for you for the long haul, then a four-year membership is available for $599.
---
6. Tournament Poker Edge
Created in 2010, Tournament Poker Edge is a little different from other sites in that it focuses exclusively on multi-table tournaments.

The site features over 1,000 training videos, with at least four new videos produced each week.

Members additionally have access to pro blogs and strategy articles and forums. There is also "Tournament Poker Edge University," a full "curriculum" of videos, articles, podcasts, and quizzes designed to help players find trouble spots in their games and improve. For the last seven-plus years, the site has also hosted a popular MTT strategy podcast available for free to anyone, which, combined with other free content on the site, provides players with a way to sample what TPE has to offer before subscribing.

More than 30 pros are currently listed as contributors on the site, among them Casey Jarzabek, Andrew Brokos, Daryl Jace, Collin Moshman, Justin Ouimette, Mike Leah, Jamie Kerstetter, and Alexander Fitzgerald.

The site has no signup fee and offers a free trial to newcomers. Those who choose to subscribe can do so for $39.95/month.
---
7. Red Chip Poker
Started in 2013 by poker pros/coaches James Sweeney, Doug Hull, Ed Miller, and Christian Soto, Red Chip Poker offers players a variety of instruction in both poker cash game strategy and poker tournament strategy.

The full PRO membership ($50/month) offers a 7-day free trial and provides access to hundreds of training videos made by a variety of coaches, with new content created every week.

PRO membership also includes unlimited access to the site's "Crash Courses" and "CORE" poker course, with those also available as options for players looking to spend a little less to get started.

There's a "Live $1/$2 NL Crash Course" focusing on low-stakes cash games and another "MTT Crash Course" devoted to MTT poker tournaments, each of which cost $39.95.

Purchasers get unlimited access to training videos, podcasts, and articles on the chosen format (cash or tourneys), plus the ability to participate in the site's forum. The site also launched its CORE 2.0 bundle, which is an update from the previous CORE membership. This is a unique and inexpensive way for players to try out the site without spending much at all ($5/month).

CORE 2.0 includes over 200 lessons covering everything from "basic building blocks" like , value betting and pot odds to "advanced concepts" like triple-barreling, how to calculate equity in poker, and multi-street planning.

Also among the updated content are the new cash and MTT courses from the aforementioned Miller and WSOP bracelet winner Chris "Fox" Wallace. Brand new preflop range charts are also available on the $5 price tier along with more than 75 hand analysis lessons.

CORE lessons vary in length, often containing a video plus exercises and quizzes with users able to earn "achievement badges" to mark their progress. As is the case with the other sites on this list, there is a lot of free content available over at Red Chip Poker as well, including videos, podcasts, and articles. Players are encouraged to check out each site and sample what it has to offer first before signing up.
---
8. Raise Your Edge
Raise Your Edge has firmly established itself as one of the best poker training platforms out there.

The site was founded by high-stakes crusher Benjamin "bencb789" Rolle, who along with other instructors share their knowledge in some of the most comprehensive no-limit Texas hold'em courses out there.

There is a free poker course you can take to get your appetite wet but the real goodies come in the paid courses which although aren't cheap are perhaps the most authoritative guide to help you crush online poker tournaments.

There are 8 poker courses which are comprised of 500 video lessons and more than 100 hours of content. The courses have different price points, with the more expensive options providing greater access to the platform's resources. People can have a taste of the free content available, however, it is worth noting that some of the expert tiers are priced above $1,000.

Read more: Advance Your Tournament Skills with this Masterclass from Raise Your Edge.
---
9. PokerNerve
PokerNerve is another video poker training site that offers some free poker training as an appetizer to join their site for their paid courses.

That being said, it would be wrong for you not to take advantage of the free material even if you don't sign-up for a paid membership.

If you are looking for poker tournament training this might be the right spot for you as Kelvin "Acesup" Beattie, who has more than $5 million in online tournament cashes, is the face of the site.

The three main poker training courses range in price from $139 to $690 for lifetime access. Meaning you won't have to spend money each month to keep your subscription up to date and can absorb course material at your own pace without feeling rushed to complete before time runs out on your access. Unlike some of the other training sites that are suitable to either beginner or advanced levels, PokerNerve has something for everyone. Here is a look at the three main courses at PokerNerve:
| Course | Lessons | Price |
| --- | --- | --- |
| Advanced PKO | 40 + lessons | $499 |
| Premium MTT Training | 90 + lessons | $690 |
| Starter MTT Training | 20 + lessons | $139 |
---
10. SplitSuit Poker
SplitSuit Poker is a great place to head to for plenty of free poker resources. Of course, the bulk of the more advanced training comes from the site's found James "SplitSuit" Sweeney.

The site is designed for cash game players, so if you are looking for poker tournament training you should head elsewhere. If Texas hold'em cash games are what you are looking to improve on, this course could be the best option for you. The two main poker courses you can learn from at SplitSuit Poker are The One Percent and The Step-By-Step Hand Reading System.

The One Percent course is based off the popular poker book by poker author Ed Miller. While the book is certainly worth a read as there is plenty to learn from, Sweeney takes the book to the next level in this course.

The course boasts a Basic Edition at $199 and a Pure Edition at $399. Meanwhile, The Hand Reading Lab is priced a bit higher at $497, which isn't too expensive considering the course is designed to improve your win rate in cash games. Just one big pot going your way will pay for the course itself.
---
11. PLO QuickPro
Most online poker training sites focus solely on no-limit Texas hold'em. After all, this is what most poker players play and it is the easiest game for new players to get their heads around. This doesn't mean that you can't get poker training in other poker variants.

PLO QuickPro is such an example it is dedicated to bringing your pot-limit Omaha (PLO) game to the next level.

The Omaha poker training is led by WSOP gold bracelet winner John Beauprez.

The site has plenty of free material for you to learn from but the most valuable information is in the paid courses that start at $297. Here is a look at what's on offer:
| Course | Monthly Payment Plan | One Time Payment |
| --- | --- | --- |
| PLO QuickPro Win$1k | 6 X $97 | $499 |
| PLO QuickPro Out Of Position Mastery | 6 X $97 | $499 |
| PLO QuickPro Manual | 6 X $67 | $299 |
| PLO QuickPro Postflop Power | 3 X $166 | $399 |
| 3Bet Pots Game Theory & Practice | | $1,497 to $1,797 |
As you can see, most of the training courses offer a monthly plan. We recommend if choosing QuickPro for your poker training needs to consider saving up for the One Time Payment as this will cost you less over time.
---
12. Daniel Negreanu Masterclass
If you want to learn from the best, why not consider the Daniel Negreanu Masterclass.

Negreanu is open about his life in his vlogs, which are more prevalent during the World Series of Poker but rarely does he open up about his strategy that has led to six WSOP gold bracelets and more than $42 million in live poker tournament earnings.

The Masterclass is cheaper than some of the other options at just €200 for lifetime access. This also includes a 30-day money-back guarantee.

Negreanu's goal in the masterclass is to help you think like a poker pro.

There are 38 courses and nearly eight hours of video content. Of course, if taking the course it will take far more than eight hours as there will be oftentimes to reflect as well as rewatch content to make sure you are getting the most out of what one of the best poker players has to offer.
---
13. Phil Ivey Masterclass
Phil Ivey needs no introduction to the poker world as he is one of the most recognizable faces in poker.

At one point, Ivey had his own training site dubbed 'Ivey League' but this has disbanded.

Now the only place to get inside the 10-time WSOP bracelet winner's head is in the Phil Ivey Masterclass. The online poker training course features 12 lessons and nearly 3 ½ hours of content. While this is less than what is available in the Daniel Negreanu Masterclass you don't have to choose between the two. If you purchase a Masterclass subscription you will have access to both courses and much more.
---
14. BBZ Poker
BBZ Poker, founded by high-stakes poker professional Jordan "bigbluffzinc" Drummond, has emerged as a prominent name in the poker training sphere. Renowned for its innovative strategies and comprehensive approach, BBZ Poker offers a range of resources catering to players of all levels, from beginners seeking fundamental skills to seasoned pros aiming to refine their game. At its core, BBZ Poker focuses on a holistic training methodology, integrating theoretical concepts with practical applications. Their training modules cover diverse aspects of the game, including hand analysis, range construction, tournament strategies, mental fortitude, and exploitative play. The platform provides a blend of video courses, live coaching sessions, interactive forums, and personalized coaching, allowing players to learn at their own pace and style. For those seeking free training opportunities, BBZ Poker often offers introductory materials or trial periods to access a glimpse of their premium content. These could include sample videos, articles, or limited-time access to certain sections of their training platform. Signing up for their newsletter or following their social media channels might also provide occasional free tips, insights, or access to webinars conducted by their expert coaches. Moreover, BBZ Poker frequently collaborates with poker communities or sponsors events that may offer free entry or access to specialized training sessions. Participating in these events can provide a chance to learn from BBZ Poker's professionals without a direct financial commitment. It's essential to keep an eye on BBZ Poker's official website and social media handles for announcements regarding free training opportunities, as these offerings may vary in availability and content over time. In summary, BBZ Poker stands as a reputable platform offering top-notch poker training. While their premium content is their main offering, keeping an eye on their promotional activities, newsletters, and social media might grant occasional access to valuable free training materials and insights, making it an excellent gateway for poker enthusiasts seeking to enhance their skills.
Poker Training
For many years, players who were serious about learning the best poker strategies and increasing their likelihood for success relied on experience alone to better their games.

The poker rules, they knew. It was 'trial and error' one hand at a time, with the lessons potentially being costly depending on just how many errors were made during those trials.

The rise of poker strategy books and magazines eventually provided another means for players to learn about the game in between their time at the tables.

These enabled players to learn not only which were the better poker hands to play and odds and probabilities to know, but to become acquainted with advanced concepts like the importance of position in poker, table dynamics, image and player types, and other concepts mastered by those already versed in the game.

The advent of the internet brought about a couple of other important developments as far as learning poker strategy was concerned.
The introduction of online poker in the late 1990s and its quick explosion in popularity during the 2000s made it possible for many more to play poker for real money — including in the privacy of their homes — than had been the case before.

The rise of online poker in turn also helped fuel the growth of poker sites designed to provide poker strategy advice online via articles, discussion forums, and instructional videos.

Today there's a multitude of online options for players looking to up their games, whether you're an occasional player of low buy-in tournaments in your local casino, or a full-time grinder looking to be an online poker pro.

Online poker training sites first emerged during the "boom" years more than a decade ago, with some still going strong today and others have emerged to earn a place among the best poker training sites available at present.

What follows is a list of the most popular poker training sites available today for those looking not just to review fundamentals or learn a few tips to help them in their home game, but those seriously wanting to become full-time, professional poker players.

In other words, if you want to learn how to win at poker, you'll love this guide.

These aren't reviews, but summaries of each site's offerings. All provide introductory content for no charge to give new visitors a sense of what they offer.
FAQ
What are the best poker training sites right now?

The list of the best online training sites to learn poker includes numerous subscription-based sites like Upswing Poker, Advanced Poker Training, and Run It Once.

To guide you through all the options available, check out the lists of the top free sites and the top paid poker coaching.
Are poker training sites and poker coaching worth it?

Yes. The best sites out there can help you up your game faster and achieve results that you might never achieve alone. To make sure you get a good ROI, however, it's imperative you subscribe to poker training by proven pros and you pick online poker coaching suitable to your level of training.
Are there good free poker training sites online?

Some of the best online poker sites offer excellent poker schools where you can learn a lot more than just the basics of the game.

On this list, you find a comprehensive overview of the best free poker training sites available right now.
Is Advanced Poker Training any good?

Advanced Poker Training is a well-respected resource that helped many players get better at the game and win more.

Active since 2007, Advanced Poker Training offers one of the most immersive poker coaching experiences out there. For more info, you can read our Advanced Poker Training review.
Is Upswing Poker Lab worth it?

The Upswing Poker Lab is considered by many as the best poker training site available. Doug Polk's brainchild is a massive and successful business that is continuously updated with new resources to get exactly the kind of poker coaching you need to win more.

To know all the different resources included in the Upswing Poker Lab and the different subscription plans, visit this page.