Can Bill Klein Get Paid with a Straight Flush in a $300,000 Tournament?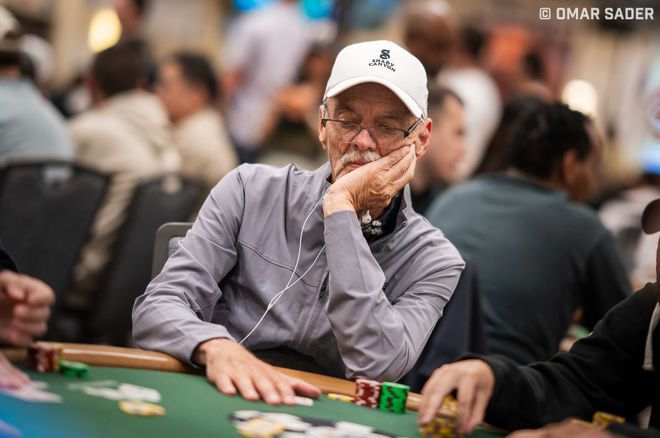 How many times have you hit a straight flush? Not many I'm sure! Bill Klein does exactly that in this poker hand from the 2021 Super High Roller Bowl in the PokerGO Studio in Las Vegas. What's even more impressive is that two of his opponents — Alex Foxen and Justin Bonomo — have also hit a straight!

In this strategy column, I'll talk about hands that like to bet in multiway pots. Draws that can comfortably bet and call a raise are generally the ones you want to use. You often want to check your draws that cannot continue against a raise as you will be folding out a decent amount of equity in the pot.

Read Why Bill Klein Is Negreanu's Favorite Player!

The 2021 Super High Roller Bowl VI was held inside the PokerGO Studio at ARIA Resort & Casino in Las Vegas. The $300,000 buy-in attracted a field of 21 players and created a prize pool of $6.3 million. Michael Addamo went on to win the event for $3,400,000 with Bonomo coming in second.

The action kicked off with Klein opening to 35,000 in the cutoff with 10♠9♠ before Addamo called on the button with A♣Q♦ and Foxen called in the small blind with J♥10♦. Bonomo also came along in the big blind with 10♣6♣.

I don't hate Foxen's call in the small blind, given that he is getting a good price, and the same is true for Bonomo in the big blind.

The flop landed 8♠9♥J♠ to give Klein an open-ended straight flush draw. Foxen and Bonomo checked and Klein continued for 60,000. Addamo folded and Foxen called before Bonomo also called.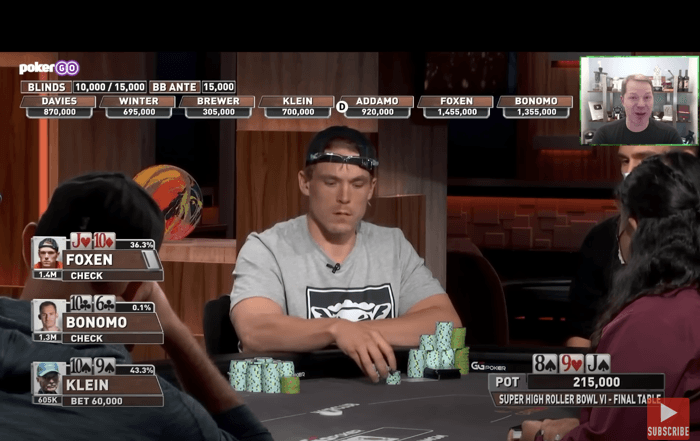 I think Klein's bet is a good size given the strength of his hand; if he calls and gets raised, he can easily continue. Addamo makes a good fold and Foxen doesn't have any option really other than to call. Bonomo has an interesting spot because there's no guarantee his hand will be good even if he gets there. I think folding is probably the right option.

The 7♠ on the turn gave Klein the straight flush in addition to giving both his opponents straights. Foxen and Bonomo both checked and Klein bet 140,000. Foxen and Bonomo both called.

I like Foxen and Bonomo checking because they don't want to lead when Klein has hands that can beat them (like flushes). I like Klein's bet size because it sets up a nice river jam if he gets one or more callers. Foxen has a mandatory continue with his straight, while Bonomo could consider folding in this spot.

The 9♦ river paired the board and Foxen and Bonomo both checked. Klein moved all in for 465,000. Foxen folded his straight while Bonomo paid Klein off before seeing the bad news.

What would you do in this scenario if you were Bonomo?

The nine is a horrible card for Klein because it makes it easier for his opponents to fold their straights. Given that Klein is a tricky player who is capable of pulling of a big bluff, I don't fault Bonomo for calling with a straight. But Bonomo should be asking, what hands could Klein be bluffing with? For more on this hand, check out my breakdown in the following video:

Jonathan Little is a professional poker player and author with over $7,000,000 in live tournament earnings. He writes a weekly educational blog and hosts a podcast at . Sign up to learn poker from Jonathan for free at . You can follow him on Twitter .